No doubt Jamie has something mind-blowing to tell us.
Two of my all-star waitresses! Jen and Ronny.
Me and the lovely Miggy Woo! Miss her!!
Me and my only real movie star friend Captain Kirk Huston!
This little guy didn't want to leave!
My cousin Ray and wife Grace were just happy to have a job. Great dishwashers!
This little gal was mean as hell when she started. Used to call her "lil Hitler". 3 years later she was one of my best ever waitresses. She ran off to California where she is the prettiest woman in the state.
Ryan Florian -"Ryan's Rellanos" on the menu is "Mr Cinco de Mayo"!
Great friends of mine! Clem, Charlotte and Ron, and of course the infamous Breck Stremmel who I foolishly let slip away!
I think this was the day Breck got in her car and drove away mid-shift. bahaha..
First lady of Vallecito and my dear friend Virginia Jackson - we all miss you!
The short-lived Pura Vida bowling team. They kicked me off for going to Costa Rica for four months of the season.
Breck, I know it is your birthday but can you work anyway?
Guys- come get your wives before they run off with me! Yea - right!
Our beautiful back yard in the summer.
Nada Graves, you know, my best friend Gemonts mom, proudly displaying her birthday twinkie!
No dammit - this is not me!! Kinda close I have to admit. At least he is a parrothead.
Alright- where the hell is everybody. Must be early saturday morning and they are still nursing their hang-overs.
All the likely suspects in Vallecito in one picture.
Just another day with my uberbabes!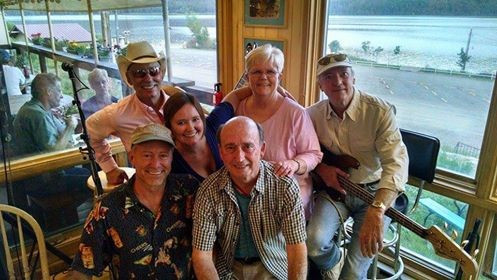 Greg, Codi, Ruthanne, Glenn, Ross and me.